Emerald Ash Borer (EAB)
As of March 2, 2023, EAB has not been detected in North Dakota. However, it has been identified as close as Moorhead, MN.
EAB is...
...native to eastern Asia, the emerald ash borer (EAB) Agrilus planipennis, was first discovered near Detroit, Michigan in 2002. Scientists believe that it was unintentionally brought into the U.S. inside infested ash crating or pallets. Since its initial discovery, the insect has spread rapidly. The damage caused by this pest has been astonishing. Unlike native ash-boring beetles that only kill weakened and dying trees, EAB attacks all ash trees regardless of their vigor, size, or age. Tens of millions of ash trees have been destroyed by the insect representing a significant economic cost to municipalities, property owners, nursery operators and forest products industries. Primary long-distance spread is thought to occur via infested firewood and may also spread by infested nursery stock.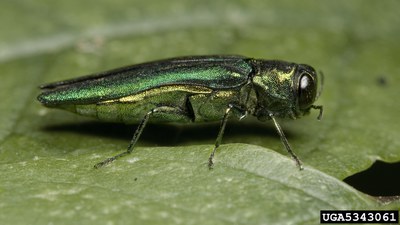 Why is EAB a problem?
EAB attacks all types of ash trees in the genus Fraxinus, including green ash. Green ash comprises more than 30% of ND conservation plantings, such as shelterbelts. Green ash comprises more than 60% of natural riparian forests in ND. 

High tree removal and replacement costs for cities and towns (many ND communities have over 65% green ash boulevard trees). 

Drastic habitat change in natural forest areas and riparian (riverside) areas. Negative impacts on water quality and aquatic life due to the loss of canopy trees in riparian forests.

Major reduction in resource conservation and crop protection benefits due to loss of shelterbelts. 
What can citizens do to help prevent EAB from reaching North Dakota?
Do NOT bring firewood from out-of-state. Only use local North Dakota sources of firewood. Firewood Alert 
At this time, ash trees should only be chemically treated if they are high value and within 15 miles of a known infestation.

Report suspected a pest by email here.

More information about: EAB Biology and Identification; The Resource at Risk in North Dakota associated with EAB infestation.