More about DED and Management
Management:
Aggressive management through early detection and timely, total removal of infested material (sanitation) in urban areas can limit infestations and elm tree mortality. 
Systemic preventative fungicides are available for protecting high-value trees. 
Additionally, there are several native and exotic elm cultivars that show levels of DED-resistance that grow well in North Dakota.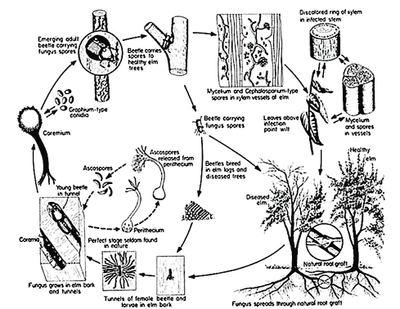 Life cycle diagram courtesy of Cornell University Dept. of Plant Pathology
Elm bark beetles reproduce in dead wood in the crown and also in elm firewood.  Beetles are coated with spores as they emerge from dead wood where the DED fungus is actively growing -- they spread the fungus to adjacent disease-free elm tree tissue by feeding in the crown.  Once the fungus enters the tree, it rapidly spreads leading to yellowing, followed by wilting and browning of foliage. The fungus will continue to spread in the tree causing more dieback symptoms. 
If infected trees are left in place long enough for the fungus to reach the roots, the fungus can spread to adjacent elm trees via root grafts and cause rapid decline and death.  This scenario has unfortunately been realized along elm-lined boulevards across North America.